Shivoham
Poems of Spirituality, Politics and Human Descent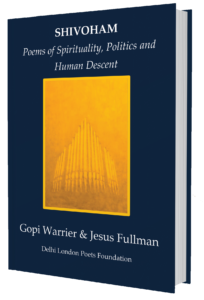 "This is one of the most unusual collection of poems I have come across for a long time. Gopi Warrier's poetry reminds me of Kahlil Gibran, Baudelaire, and Ramakrishna Paramahamsa – prophetic, passionately sensual deeply personal, spiritual and revelationary.
"Prophetic as in Gibran's writing, passionate as Baudelaire and spiritual as Ramakrishna  Paramahamsa. The English poet Alexander Pope also comes to mind with his scathing criticism of British society.
"The poem I like best  'Any Takers'  is a succinct analysis of the condition of the world today. I also particularly liked the poem 'Serengeti' – which is a beautiful evocation of the power of sound and silence.
"As a child you loved absorbed and learnt
from these gentle animals of pre-speech autistic days
the circumference of your own silence.'
As a longstanding Indophile of a strong classical Hindu orientation these poems remind me very much of a Shiva-like figure longing for union with a Parvati-like Shakti in the absence of which union the world trembles and quakes into fragments every day as we are now witnessing. As Gopi Warrier warns  'only then will the Richter stop'.  How amazingly powerful and prophetic in the times that we're living in".
Watch on Youtube the poetry films: "Any Takers" " Trapeze" and "Godsports"